Best Wi-Fi Routers to Enhance Your Online Communication Experience
3 min read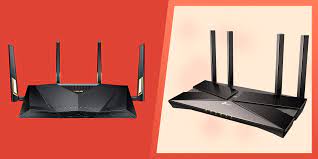 Last Updated on August 17, 2021 by Jonathan Lopez
If you are looking for ways to improve your online communication experience, one of the simplest solutions is to upgrade your router, especially if you work from home.
Investing in a newer model may also enhance wireless coverage, so you can attend a work meeting or play games from any part of your home.
Explore all our recommendations below to gain a better idea of which equipment best suits your needs. No matter if you are looking for a budget-based alternative, or an advanced Wi-Fi 6 Router, or the perfect router for gaming, we have got you covered. So, let's get started!
Nighthawk RAX50 AX5400
Luckily, the Nighthawk six-stream router is a perfect blend of the newest Wi-Fi compatibility at a reasonable rate than many other available options. With its incredible dual-band speeds, this router is a perfect choice for an average home. However, you can still get even better model versions.
It comes with four Gigabit Ethernet ports, along with USB connections, a triple-core processor of 1.5 GHz, and WPA3 compatibility for the most updated Wi-Fi security.
TP-Link Archer AX6000
One of the most amazing features of this router is its proprietary technology. It allows devices to switch from one band to another when the space gets too crowded. Additionally, it is also compatible with Alexa, you can carry out some basic network administrations tasks using voice directions
Google Nest WiFi
Its unique selling proposition is its ease of use. Unlike most routers, you can easily set up this router and manage your home network conveniently.
This easy-to-use router can cover up to 2,200 square feet alone, but you get the option to combine it with either single or double points to offer coverage up to 5,400 square feet. It is perfect for large homes or spaces that struggle with dead zones and heavy intrusions.
TP-Link Archer C1200
TP-Link Archer C1200 may be a perfect router for those with a restricted budget. It is an ideal device for a home that required a basic net connection only for light media streaming, sending & receiving emails, and browsing the web.
However, if you want to carry out some data-heavy jobs or stream 4K videos, then you may want to opt for a more robust Wi-Fi router, but the TP-Link Archer C1200 is an amazing option for cutting costs while performing all basic duties.
Netgear Nighthawk Pro Gaming XR500
The Netgear Nighthawk Pro Gaming XR500 comes with four Gigabit Ethernet ports and a 1.7GHz processor. It effectively optimizes connection so users can enjoy their gaming experience with minimum delays and low ping.
A perfect router for those who want to prioritize their gaming connections. You can stay connected with a gaming VPS as well and avail of regional options or extra security. All this is just a start.
Can Wi-Fi Router Improve My Online Communication Experience?
Sometimes the issue is not in your router device but your internet connection. If you are not satisfied with your internet speeds, then one of the best options available out there is MetroNet internet.
It delivers the best possible speeds with no data caps or contracts to make sure everyone in your family gets the speed they need.
Bottom Line
When you decide to upgrade your router and boost your online communication experience, understanding what to look for is critical. To assist you in this regard, we shared our detailed guide covering all the latest models for gaming,
business applications, and home use.
Whether you have some additional amount to spend or you are on a budget, just choose the one that best suits your requirements for an upgrade you would not regret.
About Author